Business travel can involve a lot of red tapes. This is due to complicated booking procedures, complicated tax rules, and the often tedious work of processing travel expense claims. Therefore, every company needs a Travel & Expense Management partner. Business travel has been a critical part of the success of companies and organizations since its inception. 92% of business travelers enjoy their quality of life while traveling for work. Due to its perceived importance, this industry is growing big and how!
We live in the world of technology and this impacts business travel, changing the face of business travel. Business travel agencies need to adapt to this ever-changing environment. To be successful, business tour operators must have a solid technology foundation and act quickly to respond. Business travel agencies should assist corporations by looking at the needs of the corporations themselves and the needs of the business traveler.
New trends in the business travel industry are emerging such as mobile software, process automation, artificial intelligence (AI), virtual reality, smart assistants, and blockchain technology, etc that companies are using to stay in the competition and survive in the rapidly changing business environment.
Mobile Applications: It is more important than ever for business travel agencies to find the mobile applications and tools they need to make travel information accessible and convenient. With hectic and urgent schedules, travelers want to be able to report issues and manage travel plans at the touch of a button. To do this, the mobile platform of the business travel agency must be fully optimized and networked. Mobile makes it easy to track mileage, scan receipts on the go, collect and use data, and submit specific information.
Process Automation: Process automation has become increasingly important in the travel industry, providing a range of solutions for the industry, from flights or hotel reservations to advertising and real-time information. Many processes carried out by back-office employees in hotels, airlines or airports have repetitive digital aspects. Robotic Process Automation can automate these tasks. Based on artificial intelligence, this technology can study iterative and standardized workflows and replace them with human workers. It makes managing business trips easier, cheaper, and more efficient.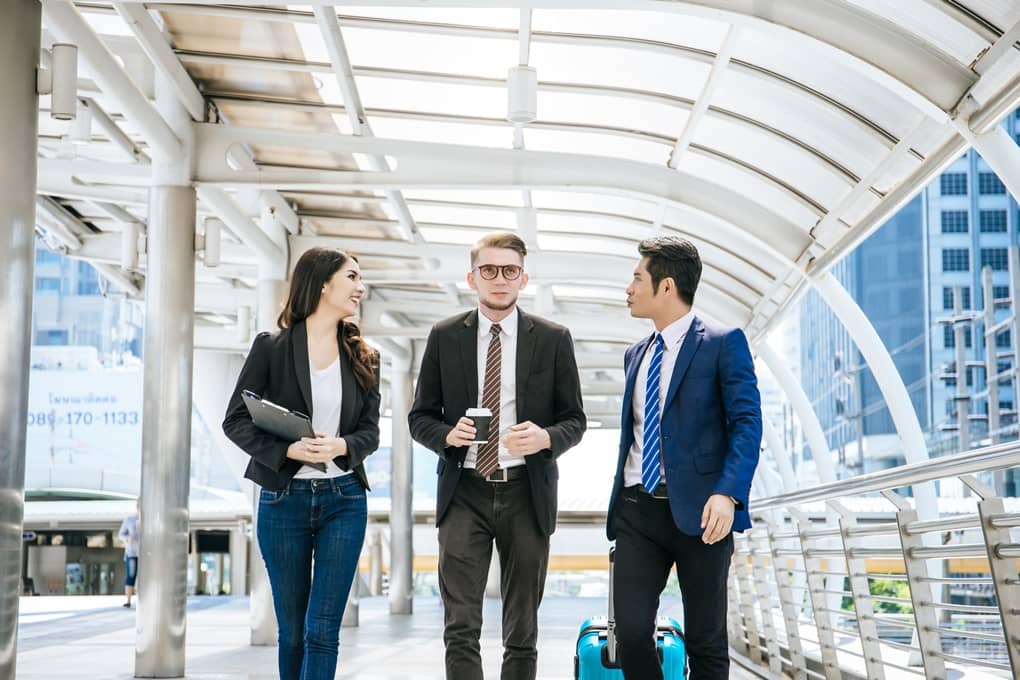 Travel Tracking: Your company's duty of care also includes knowing at all times where your employees are in order to communicate any hazards or risks they may encounter along the way. Technology has made it easier to track travelers and allows companies to keep their employees safe on the road.
Artificial Intelligence: In artificial intelligence, machines are programmed in such a way that they think like humans and carry out tasks that only humans can do. From self-driving cars to talking robots, there are countless examples of artificial intelligence in action today. Artificial Intelligence (AI) is slowly penetrating into the travel industry, creating feedback loop that helps to improve future experiences, and make life easier for business travelers. Predictive analytics helps travel management companies understand travelers' behavior and preferences. AI can also be a great travel assistant. Artificial intelligence is now infiltrating every aspect of the travel industry. Using this technology, you can get a personalized and smart travel solution tailored to your needs.
Electronic Expense Management & Reporting: While it may have been common to provide your employer with paper receipts every time you had to reimburse something related to business travel, technology has made managing expenses a more digital process. Using software and mobile applications, employees can take photos of their receipts and submit expenses in digital format. These changes make it easier for businesses to manage, report and reduce business costs.
Blockchain Technology: Blockchain is the future! And the travel industry is adopting it well. This technology helps in recording every transaction. The inherent security protocols that blockchain provides are valuable to business travelers. It'll guarantee a secure and convenient travel experience. This means that business travel agents have visibility into the entire journeys of business travelers - this data is essential in crafting a personalized experience. It also means companies have an overview of every journey and can use this data to report, predict and identify trends.
Today's business traveler demands a customized, seamless experience, but it can also be a hassle if not done correctly, the travel industry should look ahead and seek 'experience first' strategies. The future of business travel will be different from what it was in the past. Business travel companies must foster a culture of innovation and embrace technology ahead of their competition.
Even the simple process of tracking a meal receipts for reimbursement can be expensive if you don't use business expense tracking software.
New technologies are now available that greatly simplify tasks, and business travelers can take leverage blockchain, artificial intelligence, and more to simplify processes.
Make sure your company has a solid platform to manage it before you embark on your next business trip.