- Make efficient planning for business travel with TrackEx.
Following a nearly two-year gap caused by the Covid epidemic, corporate travel in the world has regained momentum. Sustained momentum in business travel is now observable, with a jump-start in business activity across all industries since January 2022. After months of virtual meetings and phone calls, younger business travelers, such as college graduates and those who have recently entered the labor or business, such as traders and small businesses, are eager to resume face-to-face encounters. Companies, small and medium firms, and public sector travelers are experiencing a strong comeback recently.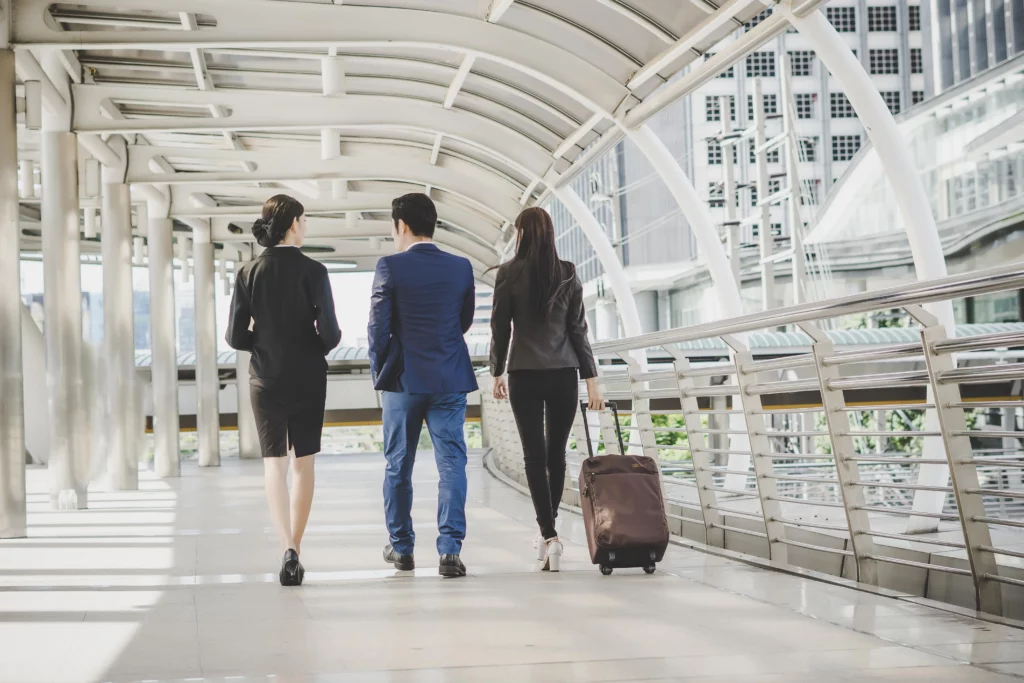 But what changes can be observed over time? Hygiene has surpassed safety as the primary priority for business visitors, and many travelers schedule their stay based on the deals and large inventory accessible to them.
Four steps to preparing for the future of corporate travel
All stakeholders must work together to create a safe and successful road map for future corporate travel. Suppliers (including airlines, hotels, car rental, and rideshare companies), corporate travel planners, travel intermediaries like online travel agencies (OTAs), global distribution system (GDS) providers, and travelers themselves must master four critical skills:
A) Leveraging real-time data
B) Planning with agility
C) Aiming for comfort and safety
D) Communicating clearly
How can TrackEx help you become travel-ready?
Employees may easily book work-related travel with the help of TrackEx, a cloud-based enterprise travel, and expense management software. TrackEx also manages expenditures, users and roles, accounting, audits, and compliance.
Businesses can utilize this to address challenges like controlling travel expenses, visibility, and the risk of making poor spending decisions, accommodating employee preferences for bookings, and getting the whole deal customized.
Travel- For booking cars, flights or hotels, get competitive rates and simplify your corporate travel with its advanced fare-search engine.
Connect Anywhere with a Mobile App- TrackEx's app makes it easy to manage spending. Employees only need a reliable internet connection to view or transfer information anywhere.
Quick Submission of E-Receipts- Hold the smartphone over the receipt to get a photo and one tap to submit it. Do it when you accumulate various company spending tickets and anticipate prompt responses from your management.
Make Reports to Help You Make Better Decisions - Decision-makers obtain real-time knowledge about company travel expenses. Create statistics on employee travel spending, sales success, travel trends and patterns, and expenditure comparisons.
A Large Inventory with the Best Booking Offers- It publishes the finest hotel, airline, and ground transportation offers, giving travelers a wide range of options to choose from while keeping the business budget in mind.
Expense Reporting-
Real-time expense reporting with QuickBooks- Integrate your QuickBooks account with TrackEx to get your expenditure accounts, employee information, and customer lists in one location. This will allow you to book credit card charges, refunds, and payments with a single click.
Integrations- TrackEx can be integrated with any of the platforms like CRM, ERP, HRMS, or accounting software as per the specific needs of companies.
Improve Employee Engagement with Employee Management Program- The Employee Travel Benefit Program provides employees access to flight and hotel bookings at discounted prices. With a minimum effort, corporates can offer this low-cost benefit to their current employees and, more importantly, their families.
Pre-Trip, Multi-Layered Approval, and Scheduling- Simplify policy compliance and automate the trip authorization procedure.
With TrackEx, you can save up to 30% on travel costs. Sign up for a free trial or contact our business executives to know more.