In the modern work environment, travel is a fact of life. Appointments, meetings, and conferences keep employees on the road often. It's essential to be prepared for these situations by developing a plan that minimizes expenses and maximizes your productivity.
According to a recent Oxford Economics study, businesses gain $12.50 in incremental revenue for every $1 spent on business travel. In the first year alone, eliminating business travel would cost a company 17% of its profits. If no in-person meetings are conducted, 28 percent of ongoing business might be lost.
The importance of having face-to-face meetings with your customers and partners is evident, both intuitively and statistically. However, managing corporate travel requests raises a slew of issues.
With global spending on corporate travel expected to reach $1.7 trillion by 2022, it's time to start planning your travel budget. These are some tips that companies/employees should follow for managing travel expenses more effectively:
Booking in advance
Most airlines offer relatively low pricing and discounts for pre-booked trips. Most companies that have successfully reduced business travel expenses have implemented policies requiring employees to buy tickets at least few weeks ahead of time.
Even for hotels, booking rooms in advance is recommendable. Reservations are fully cancellable until a few days before check-in, so there's always time to double-check the rates as the trip approaches.
Explore booking sites
Before traveling, make sure to compare airfares and find the cheapest flights using different websites. One of the most standard practices should be to go to the airline's website to see if they can offer a better deal.
For hotels, deals that aren't always available through traditional travel agencies can be found on online reservation sites. They also include user reviews, which provide invaluable insight into what to expect from the hotel. To compare prices, exploring three or four different websites is recommendable.
Proper meeting scheduling
Plan events and networking sessions throughout the offseason, in addition to essential client appointments. Hence, employees will be able to avoid the most expensive peak holiday periods.
Keep an eye on the luggage.
Savvy travelers pack light and avoid bringing too much luggage that they may have to pay for later. Check the size, amount, and weight of baggage allowed on the aircraft before leaving.
Combining your flight and taxi hire might save you a lot of money.
Combining flight with taxi rental services to get from the airport to the hotel and vice versa is less expensive than purchasing these services individually since the overall cost is lower.
Before booking a large number of reservations, check with a few different hotels.
Before making bulk hotel reservations, call several hotels and offer them a fair rate. After getting prices for all of the hotels, choose the hotel with the best deal out of the bunch.
Putting these practices in place in your company is a great way to start controlling your corporate travel costs. Even if you have an effective travel policy in place, you may still feel unable to reduce certain travel costs. This is where these best practices come in handy. It's essential to be prepared for these situations by developing a plan that minimizes expenses and maximizes productivity. These practices can be made smoother and simpler by implementing automated travel expense management.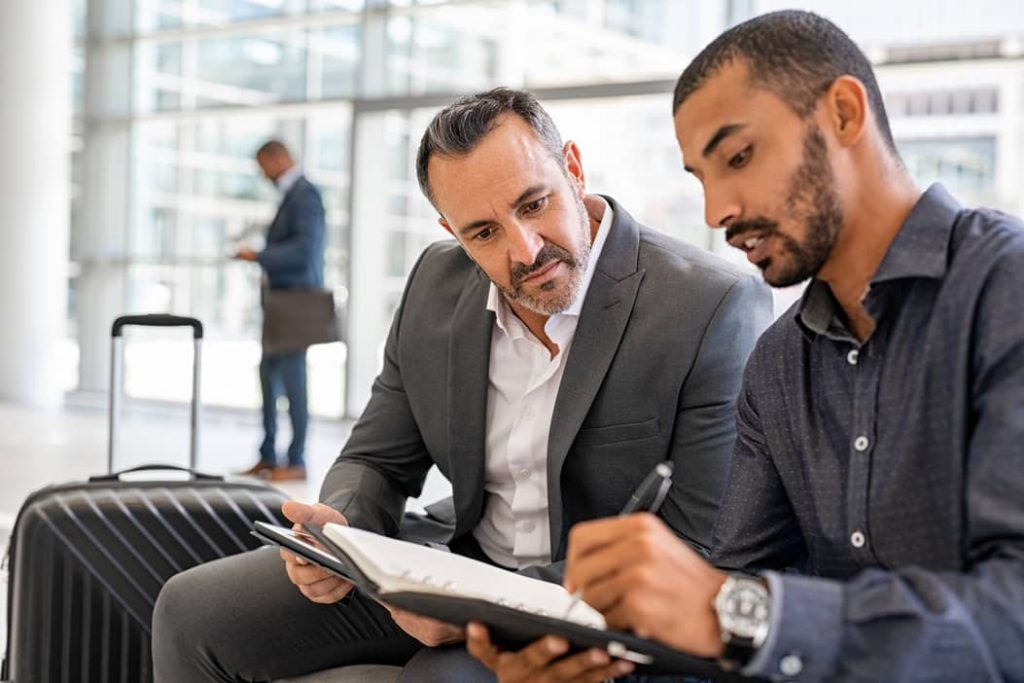 One of the best travel expense management that companies use is TrackEx.
TrackEx is a comprehensive travel and expense management platform that is cloud-based. It allows employees to easily book work-related travel and manage spending, accounting, auditing, and compliance through well-structured reporting that includes real-time and actionable data. Businesses can use the product to help them overcome travel expense control, visibility, and the risk of making poor spending decisions.
With TrackEx, companies can save time and costs, as:
Employees can focus on their jobs rather than booking and managing travel reservations with TrackEx. Following adoption, overall productivity can increase by 40%.
With its competitive inventory fares, TrackEx can save up to 30% on the travel fare.
It has a user-friendly solution with a simplified travel booking process. It also reduces the amount of work that managers and supervisors have to do.
Reimbursement Best Travel Expense Management Practices