- Simplify your corporate travel with automated bookings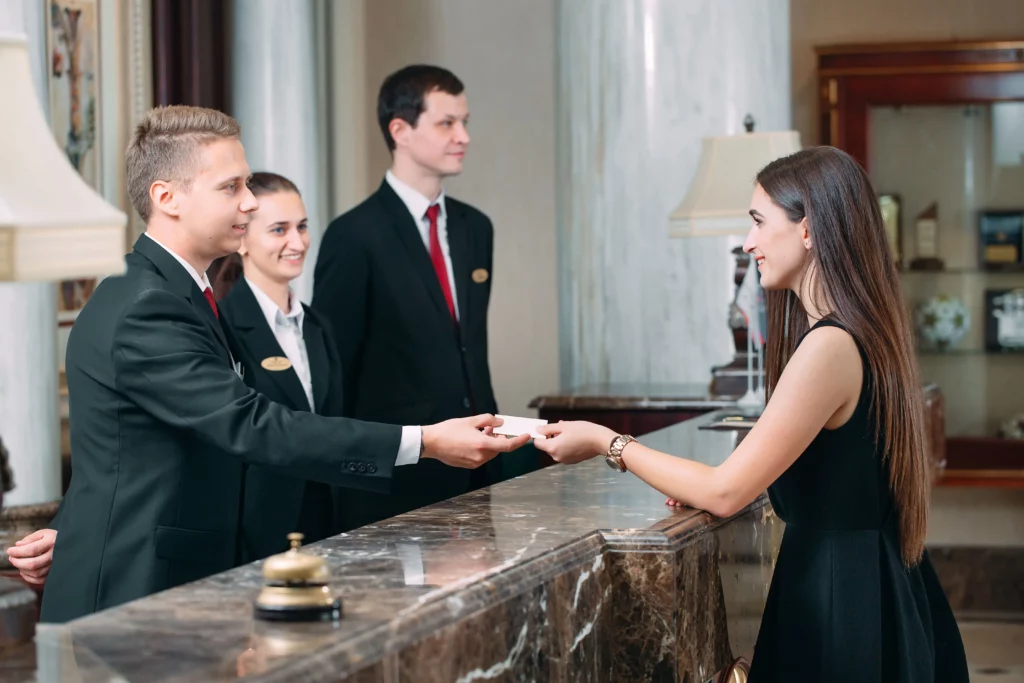 There has been a shift in society's values and perspective following the pandemic's severe phase. While the popularity of staycations, hygiene regulations, and contactless technologies - firmly established in hospitality organizations' daily activities - has risen dramatically in 2020 and 2021, some new trends are emerging.
1. Business travelers and hotel workspaces
Working remotely is now typical for many employees and is expected to become more than a fleeting fad. This means that hospitality establishments are being used as makeshift offices for both bleisure visitors and residents looking for a change of scenery. Hotels will undoubtedly capitalize on this trend by tailoring their offerings to the demands and desires of this rising sector.
2. Digitalized encounters
Apps are becoming increasingly crucial in how hoteliers manage their clients' services, and they can now control many areas of the guest cycle and experience. The adoption of technology-assisted solutions such as mobile check-in, contactless payments, voice control, and biometrics has gained traction.
3. Personalization of services
People nowadays have come to expect to be acknowledged and treated as individuals. Establishments are going out of their way to meet their customers individually. Today's technology can provide insights into previous purchasing behaviors, allowing hotels to tailor their offers and promotions and automatically give similar services at earlier stays.
Big data is used by technological platforms such as CRM and CEM to generate one-to-one interactions between the visitor and the host at scale. AI-powered chatbots are a valuable asset in customer care throughout the booking process and in answering repeated questions.
The use of tracking systems to monitor and maximize revenues, customer interactions, property, channels, and reputation is progressively shaping hotel operations in general.
4. Environment-friendly
A hospitality trend that has been a trademark of recent years: "sustainable" takes center stage once more. More far-reaching ethical and environmental considerations are impacting decisions made at the hotel management level as a natural extension of avoiding disposable plastics, minimizing excessive paper consumption through opt-in receipts, and reducing food waste. When decisions as simple as choosing towel rails to place during renovations are made at scale, the consequences are disproportionate.
5. Globalization
In a world so interconnected by business and economic relationships, it stands to reason that globalization would impact the hotel industry. As globalization increases earnings in countries around the world, more people can afford to travel, which means hotels confront both opportunities and challenges in welcoming new tourists from various locations. Along with the growing middle class, income inequality is widening the gap between the top incomes and the remainder. Luxury travelers' hunger for out-of-the-ordinary experiences remains strong, so high-end hotels must always come up with fresh and innovative products to impress their customers.
TrackEx: For You and Your Employees
TrackEx, an integrated travel and expense management software, allows employees to book work-related travel easily and tracks expenditures. Some of the other noticeable features are:
TrackEx- A unified solution for hotel bookings and reimbursements.
Book nearby hotels easily and facilitate savings via employee incentives.
Streamline expense reimbursements with pre-approval methods, audits, and policy controls.
With TrackEx, experience end-to-end support throughout your trip.
And ensure a safe and seamless hotel booking experience for your employees.
Book your free 90-day trial today.